Industrial Refrigeration Control Systems
With integrated energy management features, such as demand control and demand response, Airixa can provide a significant return on investment by lowering your energy usage and utility bills.
Technology Platform for
Industrial Refrigeration
& Energy Management
Delivering ripe, ready-to-eat produce to consumers requires a carefully calibrated refrigerated supply chain with numerous moving parts working together to create the perfect environmental conditions. Airixa is a technology platform for monitoring and controlling the entire industrial refrigeration process, with integrated energy and demand management features to help food processors run their operations more efficiently.
Refrigeration Controls
Airixa integrates with refrigeration equipment and instrumentation to monitor, control, and optimize your entire refrigeration process.
Demand Management
Limit demand spikes during peak utility rate periods and generate additional revenue with demand response rebates and incentives.
Effieciency Measures
Efficiency measures, such as VFD speed control for evaporator fans, improve system efficiency without compromising performance.
Scalable
Object-oriented software design enables the ability to quickly add new equipment to Airixa without re-engineering the entire system.
Case Study:

Refrigeration & Energy Management Control System For Today's Food Supply Chain
Learn how Airixa is helping produce growers and distributors deliver fresh products across the globe, while also cutting energy consumption.
Significant Energy
Savings & ROI with
Demand Management
Electricity bills include demand charges measured in kilowatts (kW) based on the peak demand within a billing period. Typically, the demand charge is determined by the highest average kW during a set time period and can account for up to 10-40% of a business's utility bill.

Through sophisticated load reduction capabilities, such as equipment start-up sequencing, user-selected load reduction priorities, adaptive power demand limits, and load shifting algorithms, Airixa can significantly reduce your energy bill by limiting energy demand spikes during peak periods when utility rates are highest. Many US companies that implement demand response can even generate additional revenue through rebates and incentives offered by utility providers.
Airixa can help companies reduce their utility bill & associated demand charges by
10-40%
Read our energy and demand management article to learn more about Airixa's energy management features:
SCADA Software for
System Monitoring,
Control & Analysis
Refrigeration systems need to reliably operate 24/7 to prevent the loss of perishable food products. With Airixa's included supervisory control and data acquisition (SCADA) software, companies can monitor the status, health and performance of their entire refrigeration system from both the plant and enterprise levels.

Through direct integration with PLCs and connected instrumentation, Airixa can directly control connected equipment and collect real-time data to generate informative displays with graphic visualization of system information, including live trends, data feeds, active alarms, and machine operating status.
Additional Refrigeration System Control & Monitoring Features:
Instrumentation
Integration &
Data Monitoring
Refrigeration systems that contain Ammonia, Freon, and other refrigerants require constant monitoring for leaks to ensure the safety of workers and the environment. Airixa integrates with a variety of system instrumentation, such as Freon and Ammonia detectors, alarming strobes, and horns to provide immediate alerts in the event of a leak. Airixa also integrates with CO2, humidity, pressure, and temperature sensors to provide real-time information about the environmental conditions in and outside of your facility and ripening rooms.
Remote Access
& Multi-User
Authentication
As many production facilities have multiple locations that operate around the clock, Airixa needs to be accessible from anywhere and at all times. To ensure a high level of availability, Airixa provides remote access to live data through native iOS and Android applications. Airixa is also accessible via web browser from any internet-capable device and includes simultaneous multi-user login with authentication for permissions-based operation.
"This is AWESOME…headed towards the enterprise solution we've been envisioning."​
"I started poking around Airixa, and I am already very impressed by the demand management suite you and your team have produced! The UI seems very intuitive, and we're excited to dive into it."
Installations Across North & South America
With installations in the United States, Canada, Mexico and Peru, Airixa controls over 2,000,000 sq. ft. of production space, including 152 fruit and vegetable ripening rooms.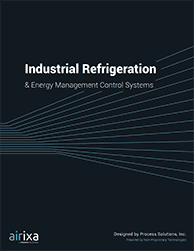 Airixa
Industrial refrigeration & energy management control systems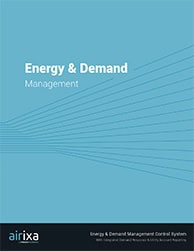 Airixa
Energy & demand management control systems